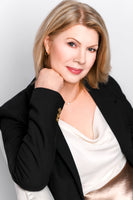 Meet Our Owner
Betty Roman has been an Aesthetician for 30 years and Spa Owner for 25 years.
Her affinity toward European based skin care methods led her to additional training in Paris working with Professional skin Skin Care Brands products which are used to this day in the Spa.

Seeing education as key to success, she sought out one of the best private skin care institutes in the country at the time, Aesthetic Skin Care Center, in the D.C. area, where her training was European based with an emphasis on a holistic approach to treating the skin and body. She also holds the coveted international CIDESCO Diploma, which is a higher standard for the professional skin care industry.

"My goal is for clients to feel and look beautiful every day, not just spa day"
Schedule a Appointment Now
Testimonials
I have been coming to the spa a number of years and I have tried all of the services and found them to be very enjoyable. I've been getting facials every month and my skin has shown noticeable improvement.

Sue L. - Cary, NC
As always, my day at Roman Day Spa was beyond wonderful. My level of relaxation from service to service (facial & massage) just kept improving. The atmosphere & personnel make you feel like you never want to leave! One is sure to come back for more pampering!

Inez L. - Cary, NC
Whenever I visit Chapel Hill, NC, I drive 80 miles roundtrip to get a Facial. They are skilled, caring, latest techniques/products and a special experience. Roman Skin is worth the trip.

Rhoda L. - Chicago, IL
I have been coming for over 2 years with monthly facials that address my specific skin needs. Products are recommended for my skincare concerns, and are great. The results are wonderful. My skin has never been more smooth and clear. Other pampering is great while I am there...massages. They have the best sunscreen I have ever used!

Dr. Jill Benson (M.D.) - Cary, NC
Roman is a special place. I have been coming for several years. The facial is my time to relax and be renewed with quality services. Coming here has changed both my skin and my attitude and my health - all for the better. I wouldn't trade this time for anything else!

Cathy R. - Cary, NC
I have been enjoying the services at Roman Day Spa for over 5 years and would highly recommend it to anyone. The atmosphere is quiet and inviting and the individuals doing the special services are dedicated to ensuring you have a wonderful, relaxing experience. A treasure for Cary!

Sharon B. - Cary, NC
Some of our favorite Brands