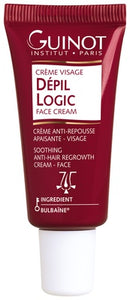 This facial cream minimizes hair regrowth, softens the skin and lightens facial hair. The cream has a light texture that is quickly absorbed. 
Skin Type:
All Skin Types
Treatment Type:
Use Daily: Morning and Evening
Key Ingredients
Chamomile Extract - soothing.
Bulbaine - reduces hair regrowth.
Skin Tree - soothes.
Corn & Arnica Extract - calms the skin.
Aloe Vera Extract - soothes.
Lemon - lightens hair.