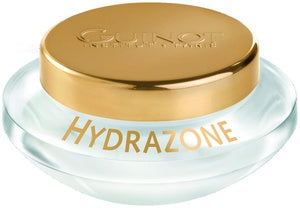 Skin Type:
All Types
Guinot Hydrazone All Skin/Moisturizing Cream Description:
Moisture is essential to keep skin looking youthful radiant and supple. All skin types become dehydrated at any age and the skin's moisture content diminishes regularly with time. This moisturizing cream is a targeted ultra-protective product that can be used on all skin types throughout the year.
Guinot Hydrazone All Skin/Moisturizing Cream Features & Benefits:
Minimize the appearance of dehydration lines.
Diffuse moisturizing liposomes in depth.
Increase moisture levels in surface layers of the skin.
Plump dry lines.
Improve skin's suppleness and elasticity.
Protect the skin throughout the day.
How To Use Guinot Hydrazone All Skin/Moisturizing Cream:
Apply morning and evening. Stroke lightly on to thoroughly cleansed face and neck. In cases of severe dehydration alternate with "Hydrazone for Dehydrated Skin."
Guinot Hydrazone All Skin/Moisturizing Cream Ingredients:
Water (Aqua) Propylene Glycol Cetyl Palmitate Nylon-66 Cetearyl Isononanoate Dioctylcyclohexane Jojoba (Buxus Chinensis) Oil Glycol Stearate Stearoxy Dimethicone Behenyl Alcohol Urea Carrot (Daucus Carotta) Steareth-20 Dimethicone Cyclomethicone Phenoxyethanol PEG-8 Stearate Triethanolamine Glyceryl Polymethacrylate Carbomer Parfum Xantham Gum Retinyl Acetate Lecithin Methylparaben Pectin Butylparaben PPG-2 Ceteareth-9 Ethylparaben Moisture Absorbing Nutrient Trisodium EDTA Propylparaben Cellulose Gum Ascorbyl Palmitate BHT Glyceryl Oleate Citric Acid Potassium Sorbate Sodium Sulfate.