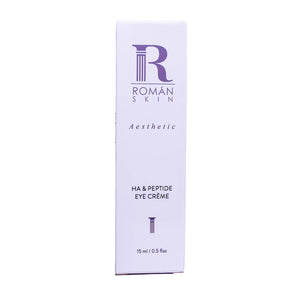 Skin Type: SENSITIVE/DRY/DEHYDRATED, MATURE, ALL SKIN TYPES

Product Description: Restore moisture while protecting the delicate skin around the eyes with this Hyaluronic Acid, pseudo Collagen-based Eye Crème that deeply hydrates and supports suppleness. A synergistic complex of revitalizing Peptides, Botanical Extracts, Vitamins and natural illuminators make this crème highly desirable for those who are experiencing loss of vibrancy.

Client Use: AM and PM. Dispense 1 to 2 drops onto fingertips and tap gently onto eye zone above and below mobile eye area.